Description
Compressport Under Control Pirate 3/4 Length Running Tights
Sprint at full speed effortlessly with the Running Under Control Pirate ¾. Developed in Switzerland, the Running Under Control Pirate ¾ significantly enhance performances and accelerate your recovery. They deliver a compression perfectly tailored to the different muscle needs of the thighs, knees and calves. Whether it's in running or on the track for an interval training session, they absorb shocks and provide excellent muscle support. Wear your pirates to reduce muscle fatigue and increase your resistance to hard effort, as they allow you to push to the limit while preventing muscle damage and aches and pains. The ultra-thermoregulating fibre provides a pleasurable feeling of warmth when it is cold, ideal for winter conditions. More ventilated, the Running Under Control Pirate ¾ perfectly wick moisture away to keep you dry at all times. With their seamless design, flexible fibers, you keep great freedom of movement and stay away from irritations.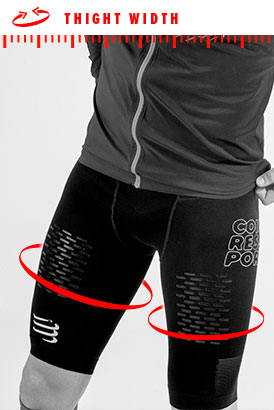 | | CM | INCH |
| --- | --- | --- |
| T1 | 49-54 | 19-21 |
| T2 | 54-59 | 21-23 |
| T3 | 59-64 | 23-25 |
| T4 | 64-69 | 25-27 |
Your order will be dispatched by our dedicated team at Alton Sports. We have a very diverse team with many of our staff members being involved in various running disciplines including 800m to 10km on the Track or Road, Half Marathon to Triathlon and everything in between. Some of our colleagues compete to a high level in both domestic and international competition. Our skills are wide ranging from having qualifications in anatomy and physiology to nutrition to postural assessment and even exercise and coaching.
Should you have any questions or if you would like to know more about Alton Sports or the services and products we offer, please call us on
01420 562267.